Dinner Menu at Kalaheo Café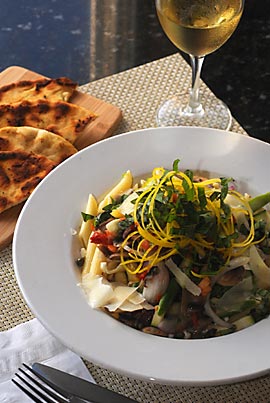 Savory might be the best word to describe Kalaheo Café's dinner service. Or fresh. Or hearty. Or friendly. Or casually delicious. Or maybe just mmmmmm would be most accurate. No matter how you choose to describe us, you're sure to taste why we're a local Kauai favorite for dinner!
Our standard dinner menu is the just the start because our chef puts her signature twist on nightly specials made from fresh, local, wholesome ingredients that are sure to please.
Plus we've got a great wine list that puts flavor and variety above pomp and circumstance—so bring some friends and share a delicious bottle!
~ ~ ~ ~ ~ ~ ~ ~ ~ ~
Dinner Specials
Tuesday, August 15th 'til Saturday, August 19th
~ Fresh Catch ~
28
Sake miso marinated and grilled, served over forbidden rice with steamed bok choi
and wasabi ginger sauce
* * * * *
Served Friday and Saturday Night
~ Salt rubbed 14oz Prime Rib Roast ~
32
Yukon potato purée, horseradish creme, Au Jus.
* * * * *
~ Fresh Catch Sandwich ~
18
Grilled and topped with cheddar, lettuce, tomato, cucumber, bacon,
and house made tarter sauce
Served on a brioche bun
Choice of side
~ Andrade's, "Rancher's Daughter"
28 Day Dry Aged Beef Burger, ~
18
House made jalapeno jelly, jack cheese, bacon crumble, toasted coconut,
and shredded romaine
Served on a brioche bun.
Choice of side
~Grilled New York Steak ~
28
Chipotle marinated and grilled topped with avocado crema and tortilla strips.
Served with chili lime corn salad and rice.
~Southern Fried Pork Chop ~
25
Drizzled with honey mustard sauce and served with yukon mash and fried
green beans with bacon
~ ~ ~ ~ ~ ~ ~ ~ ~ ~ ~ ~ ~ ~ ~