Dinner Menu at Kalaheo Café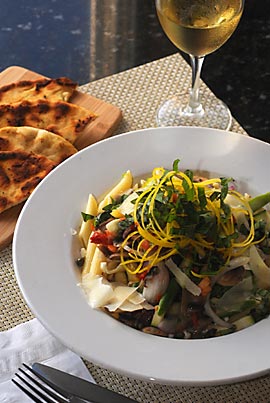 Savory might be the best word to describe Kalaheo Café's dinner service. Or fresh. Or hearty. Or friendly. Or casually delicious. Or maybe just mmmmmm would be most accurate. No matter how you choose to describe us, you're sure to taste why we're a local Kauai favorite for dinner!
Our standard dinner menu is the just the start because our chef puts her signature twist on nightly specials made from fresh, local, wholesome ingredients that are sure to please.
Plus we've got a great wine list that puts flavor and variety above pomp and circumstance—so bring some friends and share a delicious bottle!

~ ~ ~ ~ ~ ~ ~ ~ ~ ~
Dinner Specials
Wednesday, February 15th. 'til Saturday, February 18th.
~ Appetizer Special ~
15
Grilled Kekaha Shrimp and Jumbo Scallops
Yuzu Pepper grilled shrimp, on a bed of Kailani farms fresh arugula,
fresh mint, carrot, pancetta, corn. and tossed with a citrus vinaigrette.
Served with two grilled scallops
on a bed of avocado creme with a hint of yuzu pepper.
~ Seafood Stuffed Fresh Island Catch ~
33
Herb seasoned lobster, shrimp, and fresh catch,
served with mashed purple sweet potato.
Sake butter sauce, grilled baby bok choi.
~ Sauteed Beef Tenderloin with Lobster and Mushroom Ragout ~
36
Served on a warm herb biscuit with grilled asparagus.

* * * * *
Served Friday and Saturday Night
~ Salt Rubbed 14oz Prime Rib Roast ~
32
Yukon potato puree, horseradish creme, Au Jus.

* * * * *

~ Fresh Catch Sandwich ~
18
Topped with pepper jack cheese, chipotle aiole and thin sliced cucumber.
Served on a warm Brioche bun with lettuce, tomato and clover sprouts.
~ Andrade's, "Rancher's Daughter"
28 Day Dry Aged Beef Burger, ~
18
Three cheese burger with grilled onions, mushrooms and
apple wood smoked bacon. Lettuce, tomato, and clover sprouts.
House made 1000 Isle dressing.
Choose a side; tossed greens, soup of the day, garlic cilantro fries or onion rings.
~ ~ ~ ~ ~ ~ ~ ~ ~ ~ ~ ~ ~ ~ ~