Dinner Menu at Kalaheo Café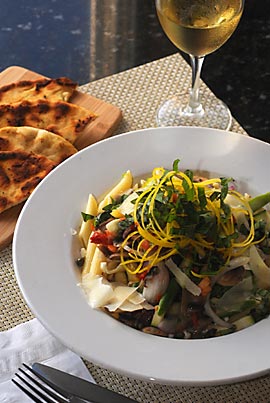 Savory might be the best word to describe Kalaheo Café's dinner service. Or fresh. Or hearty. Or friendly. Or casually delicious. Or maybe just mmmmmm would be most accurate. No matter how you choose to describe us, you're sure to taste why we're a local Kauai favorite for dinner!
Our standard dinner menu is the just the start because our chef puts her signature twist on nightly specials made from fresh, local, wholesome ingredients that are sure to please.
Plus we've got a great wine list that puts flavor and variety above pomp and circumstance—so bring some friends and share a delicious bottle!

~ ~ ~ ~ ~ ~ ~ ~ ~ ~
Dinner Specials
Tuesday, April 25th 'til Saturday, April 29th
~ Fresh Catch ~
28
Grilled served with baby bok choi, jasmine rice, and cilantro lime sauce
~ Smothered Sweet Potato Fries ~
10
Melted pepper jack cheese, crispy bacon, green onions, served with
chipotle ailoi dipping sauce

* * * * *
Served Friday and Saturday Night
~ Salt rubbed 14oz Prime Rib Roast ~
32
Yukon potato purée, horseradish creme, Au Jus.

* * * * *

~ Fresh Catch Sandwich ~
18
Polenta crusted with jack cheese, caper-dill aioli, crunchy cucumber, carrot,
cabbage, onion slaw on a brioche bun.
Choice of side
~ Andrade's, "Rancher's Daughter"
28 Day Dry Aged Beef Burger, ~
18
Beer jalapeno cheesy sauce, grilled onions, bacon, lettuce, tomato, sprouts served on a brioche bun
Choose a side: tossed greens, soup of the day, garlic cilantro fries or onion rings.
~ ~ ~ ~ ~ ~ ~ ~ ~ ~ ~ ~ ~ ~ ~