Dinner Menu at Kalaheo Café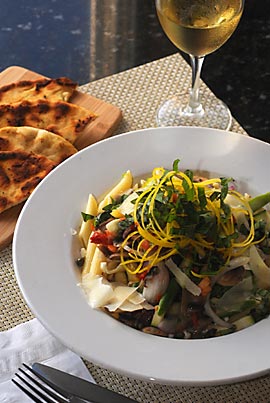 PLEASE MAKE NOTE!
Dinner service will be closed
the beginning of June.
Our Dinner staff will be on vacation June 4th. through June 15th. We will re-open our
Dinner Service on June 18th.
Mahalo for your understanding!
Savory might be the best word to describe Kalaheo Café's dinner service. Or fresh. Or hearty. Or friendly. Or casually delicious. Or maybe just mmmmmm would be most accurate. No matter how you choose to describe us, you're sure to taste why we're a local Kauai favorite for dinner!
Our standard dinner menu is the just the start because our chef puts her signature twist on nightly specials made from fresh, local, wholesome ingredients that are sure to please.
Plus we've got a great wine list that puts flavor and variety above pomp and circumstance—so bring some friends and share a delicious bottle!
Weekly Dinner Specials
Tuesday, May 14th. through Saturday, May 18th. 2013
~ Fresh Fish Special ~
28.95
Todays Fresh Island Catch Enchilada
Herbed Polenta,House Vegtables,Queso Fresca,
Creamy Lime Enchilada Sauce.
$28.95
~ Fresh Fish Sandwich ~
16.95
Fresh Island Fish Sandwich
Mango and Cherry Tomato Salsa
Avocado Crema served on Flatbread
$16.95
Entree specials served with choice of side salad or soup of the day!