Lunch Menu at Kalaheo Café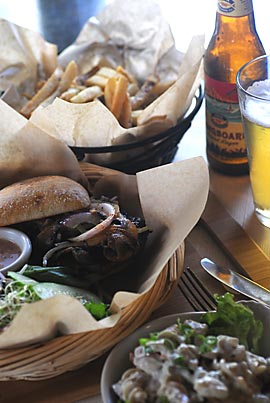 Join us for a fresh and hearty lunch in our casual café in rural upcountry Kauai. From our handmade deli sandwiches, to our famous salads, to our beef and turkey burgers (with delicious cilantro garlic fries!) there's always something savory to satisfy your palate!
If the variety of options overwhelm you, check out our Special Board where you'll discover a unique lunch dish with our chef's signature flair—it's a choice you can never go wrong with.
Craving something sweet or a mid-day jolt to get you moving? Try our delicious desserts with a cup of Kauai coffee, or let us whip up a double cafe mocha to go—your taste-buds will thank you!
Lunch served daily from 11:00 am.
~ Deli Sandwiches ~
Served with lettuce, tomato, sprouts, Dijon mustard & mayo.
Country French, Country Wheat, Rye, Croissant, or Tortilla Wrap.
Honey Cured Ham 6.95
Smoked Turkey Breast
B.L.T.S. 7.25
(Bacon, Lettuce, Tomato & Sprouts)
Cafe Club, with Turkey, Ham & Bacon 8.75
Veggie Sandwich 7.25
Piled high with Guacamole & plenty of veggies
Tuna Salad Sandwich 6.75
Roast Beef, House Roasted! 7.50
1/2 Sandwich, with Soup, Salad, Onion Rings, or Garlic Fries 9.75
Delicious Extras for Your Sandwich
Deli Selection of Cheese
Cheddar, Monterey Jack, Muenster, Pepper Jack, Provolone or Swiss
Salsa
Onion
Assorted Bagged Chips
Fresh Avocado
When Available
Side of Potato-Pasta Salad
Garlic Cilantro Fries
Crisp Onion Rings
~ Fresh from the Garden ~
Dressing choices: Roasted Garlic & Basil, Balsamic Vinaigrette, Fresh Papaya Seed, Oriental or Bleu Cheese.
Tuna Salad on Kalaheo Greens 11.95
Crisp Kalaheo grown greens, snow peas, grated veggies, onions, bean sprouts, and tomato. Topped with our Tuna Salad, clover sprouts and sliced cucumber.
Soup Salad and Flatbread 10.25
Today's soup selection served with potato salad, tossed greens or fruit salad and our warm garlic flat bread.
Spinach and Kauai Greens 13.25
Fresh grown Kailani Farm greens with crisp spinach, strawberries,
candied pecans and Feta cheese.
Balsamic Vinaigrette and warm flat bread.
Herb Chicken Breast, Pasta and Island Green 13.25
Grilled and set atop our local greens tossed with bean sprouts, pasta and roasted garlic dressing, finished with fresh tomato wedges, Parmesan cheese and herb croutons.
Greek Salad 12.50
Crisp Kalaheo greens topped with cucumber, onions, bell peppers,
Kalamata olives, marinated artichoke hearts,
topped with Feta cheese and served with grilled flat bread.
Island Tossed Greens 7.25
Kalaheo greens, tomato, onion, grated fresh veggies,
bean & clover sprouts topped with croutons.
Roasted Veggie and Tofu Bowl 13.25
Grilled fresh vegetables over brown rice with seared tofu
and warm flat bread with a chipotle aioli.
~ Gourmet Grill Cheese ~
Rustic White, Country Wheat, Rye,
Gluten Free bread available at additional charge.
Honey Cured Ham 10.95
Tomato, Melted Swiss Cheese
Crisp Applewood Cured Bacon 11.95
Avocado, Melted Cheddar Cheese
Kalua Pork and Caramelized Onion 11.95
Sliced Apple and Melted Fontina Cheese
Our Grill Cheese Sandwiches come with a choice of soup of the day,
potato-pasta salad, tossed greens, onion rings or Garlic Cilantro Fries
~ Hot off the Grill ~
Served with lettuce, tomato, sprouts, Dijon mustard & mayo. Choice of Soup of the day, potato-pasta salad, tossed greens, onion rings or Cilantro Garlic Fries.
Grilled Fresh Vegetable Wrap 11.75
Seasonal roasted vegetables marinated and grilled quickly with cucumber, basil walnut pesto, lettuce, tomato and clover sprouts
Grilled Pesto Chicken Breast 12.95
Boneless & skinless chicken breast in a pesto marination. Topped with Provolone cheese, grilled mushrooms, Pesto mayo and Balsamic drizzle
Hot Pastrami 11.75
Grilled onions, mushrooms and melted Swiss cheese on toasted bread
Kalua Pulled Pork Sandwich on a Rustic Bun 12.50
Topped with pickled onion and cucumber namasu and Guava BBQ sauce
House-Grilled B.B.Q. Turkey or Roast Beef 12.95
Grilled onions, peppers, mushrooms, and melted Monterey Jack cheese. Topped with lettuce, tomato, and clover sprouts.
Tuna Salad Melt 11.75
A classic, topped with Muenster cheese
Grilled Country Style Reuben 12.75
Grilled thin-sliced pastrami topped with onions, sauerkraut, melted Swiss cheese and our own Thousand Isle dressing.
Smoked Turkey and Pesto Melt 12.75
Sauteed onions, mushrooms and melted Provolone cheese with pesto.
~ The Cafe Burger Bar! ~
Served with lettuce, tomato, sprouts, Dijon mustard & mayo. Choice of Soup of the day, potato-pasta salad, tossed greens, onion rings or Cilantro Garlic Fries.
Freshly made Turkey Burger 12.95
Topped with grilled onions & mushrooms, on our Rustic Bun
Medeiros Farms Applewood Smoked Bacon, Mushroom and Cheddar Burger, on our Rustic Bun 14.95
Medeiros Farms Cheese Burger, on our Rustic Bun 12.95
Choose from Provolone, Cheddar, Swiss, Monterey Jack,
Meunster, or Pepper Jack Cheeses!
Grilled Vegetarian Garden Burger 12.95
Sauteed mushrooms and onions.
Grilled Portobello Mushroom Burger 12.95
Red pepper relish, provolone cheese and mixed greens.
Brushed with our sun-dried tomato and mushroom pesto
Try Our Soup of the Day! ~ $5.25
Served with buttered bread or grilled corn muffin
How 'bout some dessert baked fresh in house?
Chocolate Ganache Cake
Country Style Apple Pie
Coconut Cream Cake
Carrot Cake
Cheesecake
Pastries
Fresh Baked Cookies
Keiki Menu ~ $3.75 to $5.95
Turkey & Cheese Quesadilla
Grilled Cheese Sandwich
Peanut Butter & Jelly
Menu items and pricing may change due to market changes.
Consuming raw or under-cooked foods may increase your risk of foodborne illness.