Breakfast Menu at Kalaheo Café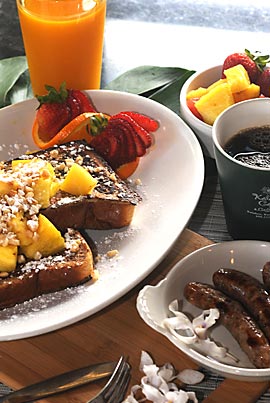 Each morning our friendly staff serve up delicious Kauai coffees, espressos, mochas, cappuccinos and other tasty beverages to our "Kalaheo Regulars" and a steady stream of Kauai visitors—and that's just to kick-start the day!
Whether you're heading out to the beach for a day of surfing and soaking up the sun, hiking the trails of Kokee State Park or just fueling up for some serious shopping, make Kalaheo Café your first stop! Grab something light and fresh like Anahola Granola with Fruit, or go "all in" with our Bonzo Burrito or Double Bagel Benny. No matter what you choose, you'll agree that Kalaheo Café is a great way to start the day!